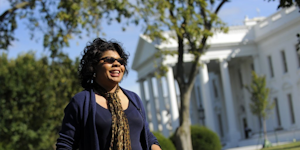 Saturday, August 5, 2017
1:00 - 3:00 p.m.
Detroit Public Library - Main Library
Moderated by Stephen Henderson
Clara Stanton Jones Friends Auditorium
---
Join us at the Detroit Public Library for an up close & personal conversation with

A

pril Ryan

, a 30-year award-winning journalist, author, White House correspondent, CNN political analyst and 2017 NABJ Journalist of the Year. Ryan has been the White House Correspondent for American Urban Radio Networks (AURN) since January of 1997, covering three Presidents.
Ryan is also the author of two best-selling books ... The Presidency In Black and White: My Up Close View of Three Presidents and Race in America and At Mama Knee: Mother and Race in Black and White.
The Presidency in Black and White was named by NBC NEWS as one of 14 books to read during Black History Month 2015. As a White House Correspondent and Washington Bureau Chief, Ryan has been afforded the opportunity to write the book in a first-hand account through her daily responsibilities at the White House.
Ryan shifts the conversation from the White House to every home in America with

At Mama's Knee

Ryan.
looks at race and race relations through the lessons that mothers transmit to their children. As a single African-American mother in Baltimore, Ryan has struggled with each gut wrenching, race-related news story to find the words to convey the right lessons to her daughters.
This event is free and open to the public.
Free parking is available in the Employee's Lot off Putnam Street.