Calling All Independent Authors!
If you would like an opportunity to showcase your book to Detroit Area
readers, this is the day!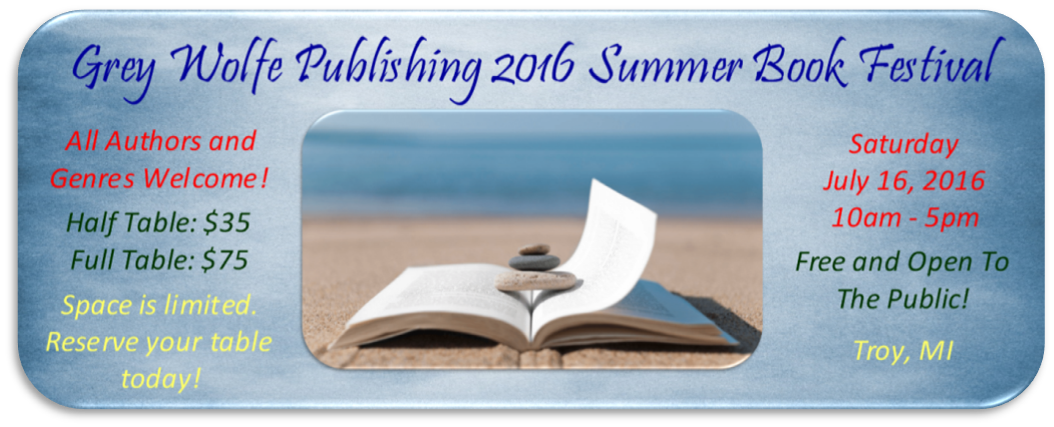 Location: Troy Community Center 3179 Livernois Road, Room #304 Troy, MI
Cost: $75; Includes one six foot table, white table cloth, two chairs.
Do you know an author who would like to share a table with you? We'll let
you split the cost to save expenses! Or, if you're an author who only
anticipates needing a half table space, we can accommodate you, too.
Please make the proper table selection at the payment screen.
Please make sure you have an attractive table display. Floor banners or
signs that need to be attached to walls are not permitted. Your entire
display should fit on your table space. Be sure to have a sign at your
table that lets readers know what types of payment you will be accepting.
Remember to include Michigan Sales Tax when pricing your books. Authors
are responsible for collecting all monies for book sales. (Don't forget to
bring change for cash sales.)
There are a limited number of tables available, so reservations are on a
first-come, first-served basis. Fees are non-refundable, unless the event
is canceled by Grey Wolfe Publishing. Please send all inquiries to
Info@GreyWolfePublishing.com
Light refreshments will be on hand for authors and guests.
Here is the table reservation link:
http://greywolfepublishing.submittable.com/submit/51438
I've also attached a graphic, should you have space for it.
Thank you for all you do to promote Michigan authors!