Saturday, November 7, 2015 from 6:00 PM to 9:00 PM (EST) Ann Arbor, MI
REGISTER NOW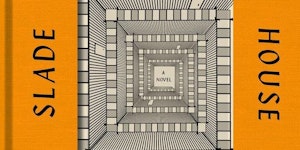 Event Details
Literati is pleased to welcome David Mitchell to Ann Arbor to read from his latest novel, Slade House. The event will take place in the sanctuary of First United Methodist Church, with co-sponsorship from the University of Michigan Helen Zell Writers' Program. After the reading, David will be in-conversation with Zell Writers' Program faculty member and author Peter Ho Davies. A book signing will follow.
Down the road from a working-class British pub, along the brick wall of a narrow alley, if the conditions are exactly right, you'll find the entrance to Slade House: a surreal place where visitors see what they want to see, including some things that should be impossible. Every nine years, the house's residents—an odd brother and sister—extend a unique invitation to someone who's different or lonely: a precocious teenager, a divorced policeman, a shy college student. But what really goes on inside Slade House? For those who find out, it's already too late. . . .

Spanning five decades, from the last days of the 1970s to the present, leaping genres, and barreling toward an astonishing conclusion, this intricately woven novel will pull you into a reality-warping new vision of the haunted house story—as only David Mitchell could imagine it.
David Mitchell is the award-winning and bestselling author of The Thousand Autumns of Jacob de Zoet, Black Swan Green, Cloud Atlas, Number9Dream, and Ghostwritten. Twice shortlisted for the Man Booker Prize, Mitchell was named one of the 100 most influential people in the world by TIME magazine in 2007. With KA Yoshida, Mitchell co-translated from the Japanese the international bestselling memoir, The Reason I Jump. He lives in Ireland with his wife and two children.
Doors will open at 5:15. We ask that you arrive as close to 5:15pm as possible to ensure that everyone is seated by 6:00pm. We reserve the right to give your seat away if you are not seated 5 minutes before event begins.
Is there assigned seating?
No. Tickets are General admission.
When will I get my copy of Slade House?
Copies of Slade House will be available to pick up by the indicated ticket holder at the venue, after admittance. You cannot pick up your copy at the store. Please have a print off of your confirmation available.
Will there be a signing line?
Yes. The reading and Q&A will take place at 6pm, followed by a signing line where David will sign books.
Can I bring my own David Mitchell books to have signed?
Yes. We'd ask that guests limit books signed to 3.
Where can I contact the organizer with any questions?
info@literatibookstore.com, or call the store at 734-585-5567.
Do I have to bring my printed ticket to the event?
Yes. For the Admit Two ticket option, both attendees must have a printed ticket.
What is the refund policy?
Tickets are non-refundable.
The closest parking structure is Liberty Square, just across Washington Street from the church lot. To find additional information on parking in Ann Arbor, please consult the following website:
http://www.a2dda.org/transportation/
Saturday, November 7, 2015 from 6:00 PM to 9:00 PM (EST) Ann Arbor, MI