click thru for details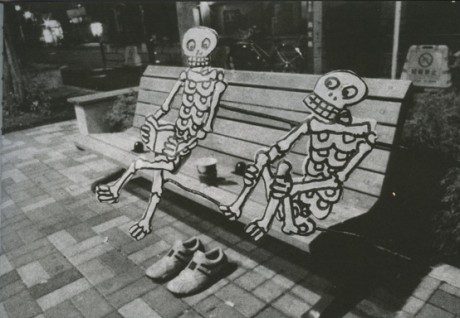 The exhibition "Bones" will display the art and vision of Yasuo Tanaka of Tokyo during a consecutive three day opening at the Book Beat gallery/bookstore on Friday, October 21st from 6-8 PM, Saturday, October 22nd from 5-8 PM and Sunday from 3-5 PM.
The artist will be making "portraits in a wheelchair" during his residency and will have original sculptures, ink & watercolor napkin drawings, photographs and books for sale. Artist Dick Cruger will also be in attendance and will present their collaboration Parallel Universe; Detroit/Tokyo, a photographic book correspondence between Tokyo and Detroit. The Exhibition will continue through January 9th, 2012. The Book Beat gallery is located at 26010 Greenfield in Oak Park. Please call 248-968-1190 for more information.
Yasuo Tanaka (b.1942) is a gifted Japanese artist that uses bookmaking, design, puppetry, wire sculpture, photography, and ink drawing in fantastic and striking combinations. Tanaka has evolved a unique brand of art using the commonplace paper napkin. This curious and quietly poetic body of work presents a world of skeletons radiating a simple and universal message and philosophy. A surreal, childlike and humorous quality pervades all of Tanaka's art that presents to us a Borgesian metaphysical vision about eternity, death and life wrapped inside his napkin of reality.
For more information please read our blog: Yasuo Tanaka Photographer and Paper Napkin Artist
---
Book Beat is an independent locally owned bookstore serving the metro Detroit area since 1982. We appreciate your support and comments. Special orders are always welcome! For more information please call 248-968-1190 during store hours Mon.-Fri. 10 am-9 pm, Sat. 10 am-7 pm & Sun. 12-5pm. Visit us in person at 26010 Greenfield in Oak Park, MI 48237 or online 24/7 at thebookbeat.com - Thank you for reading!