click thru for details






Detroit Future Media Workshops Info Session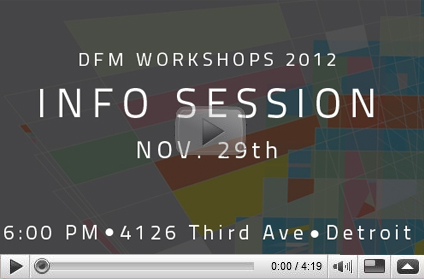 Detroit Future Media (DFM) will host an info session about their free media training workshops on Tuesday, November 29, 2011.
The session will take place at 4126 3rd St, Detroit, MI 48201 from 6PM-8PM.
DFM Coordinators will explain the program as well as the application process and criteria for participation. Additionally, alumni will share their experiences and provide additional insight.
The highly in-demand DFM workshop series, now in its second year, are 20-week trainings for Detroiters interested in building Detroit's media economy through the creation of grassroots media, and community cultural production. The workshops offer intensive trainings in video, graphics, and web design with a focus on education, entrepreneurship and media-based community organizing.
The session is free and open to the public. Those that apply can be ages 18-80, have a basic understanding of computers and passionate about positively transforming Detroit.

Applications will be accepted Nov. 28 – Dec. 4. You can apply online @ media.detroitfuture.org
Allied Media Projects DFM Team:
Janel Yamashiro, Imad Hassan, Diana J Nucera and Ron Watters

graphic designed by Nathaniel Mullen, 2011 Detroit Future Media participant