click thru for details




We thank you for supporting Book Beat in its 29th year in business.
Our Fall Hours: MON-FRI- 10AM-8 PM, SAT 10 AM- 7 PM., Sunday 12-5 PM. Please call: 248-968-1190 for more information or to place an order.
We are pleased to have 2010 National Book Award winner Jaimy Gordon at the Baldwin Public Library (300 w. Merrill st, Downtown Birmingham) on Sun., October 2 at 2pm. Author of The Lord of Misrule, Jaimy Gordon will be speaking and signing copies of her books. This event is free and open to the public, and presented by the Jane Cameron Endowment Fund. Books will be available for sale at the event. Please call Book Beat (248) 968-1190 for more information or to reserve copies of this title. For more on this event, click here.
Author Devin Scillian at Detroit Main Library on Tues., Oct. 4th!
The Detroit Public Library is pleased to welcome celebrated children's author Devin Scillian to the Detroit Main Library (5201 Woodward Avenue, Detroit, MI 48202) on Tuesday, Oct. 4th at 10am as part of the "Michigan Reads!" One State, One Children's Book Program. He will be speaking and autographing books. This event is free and open to the public. Book Beat will provide books for purchase at the event. To reserve copies of any titles please call the Book Beat (248) 968-1190. If your class is interested in attending this event, please contact Janet Batchedler at (313) 481-1409 for more information.
Devin Scillain may best be known as a nightly news anchor on WDIV Detroit, but he is also an accomplished musician and children's author with over a dozen titles to his credit, including the bestsellers A Is For America and Fibblestax. His latest title is Memoirs of a Goldfish, which tells the charming story of a simple goldfish and his solitary life that is upended when assorted intruders invade his fishbowl.
Authors Bonnie Jo Campbell & Samuel Park at the Baldwin Library Oct. 9th!
Join us to celebrate National Reading Group Month with acclaimed authors Bonnie Jo Campbell and Samuel Park at the Baldwin Public Library
(300 West Merrill Street, Birmingham, MI 48009) on Sunday, October 9 at 2pm. This event is presented by the Detroit Chapter of the Women's National Book Association. Books will be available for purchase at the event. For more information or to reserve copies please call Book Beat 248.968.1190.
Bonnie Jo Campbell is a Michigan native and the acclaimed author of Q Road, American Salvage (finalist for the 2009 National Book Award in fiction), and her latest release, Once Upon A River. "It is, rather, an excellent American parable about the consequences of our favorite ideal, freedom." New York Times Book Review of Once Upon a River. Read the full review here.
Samuel Park is the author of This Burns My Heart, the story of a privileged young woman straining against the suffocating traditions of her South Korean family and culture, yet it is her own allegiance that drives her to enter into a loveless marriage rather than break tradition and marry the man who knows her heart. For more on this event click here.
Author and MI Native Sarah Weeks at Huntington Woods Library on Thurs., Oct. 13th!
Huntington Woods Library and Book Beat pleased to welcome children's author and Michigan native Sarah Weeks to the Huntington Woods Library (26415 Scotia, Huntington Woods, MI 48070) on Thursday, October 13th from 7 to 8:30 pm. Sarah Weeks is the author of numerous children's books including: So B. It, As Simple As It Seems, If I Were A Lion, The Oggie Codder series, and her latest title Pie. To celebrate this release, please join us for a slice of pie and a conversation with the author after the signing!
"When Alice's Aunt Polly passes away, she takes with her the secret to her world-famous pie-crust recipe. Or does she? In her will, Polly leaves the recipe to her extraordinarily surly cat Lardo . . . and then leaves Lardo in the care of Alice. Suddenly Alice is thrust into the center of a piestorm, with everyone in town trying to be the next pie-contest winner ... including Alice's mother and some of Alice's friends. The whole community is going pie-crazy . . . and it's up to Alice to discover the ingredients that really matter. Like family. And friendship. And enjoying what you do."
Books will be available for purchase at the event. For more information or to reserve copies please call Book Beat 248.968.1190
Welcome back John Sinclair to the Book Beat for a poetry reading and presentation on Thursday, October 13th at 7 PM. Sinclair will present his newest collection "Song of Praise: Homage to John Sinclair". Collected here for the first time are Sinclair's poetry, reviews and writings on the musical genius of John Coltrane. A companion CD is also being issued by the publisher Trembling Press in New Orleans. [John Sinclair is] … deep inside a tradition beginning with Whitman, Williams, and Ezra Pound, and continuing through Charles Olson and Ginsberg. —Dennis Formento, from the afterword John Sinclair's writing about "The Music" has always been well informed and inspiring, from his early Detroit-hip days. So it's important to gather this writing to show where he and we have been, and the great period of American Classical Music we lived through and particularly the marvelous revelation that John Coltrane provided everybody who could hear. —Amiri Baraka Poet, activist, major jazz head, John Sinclair's SONG OF PRAISE is a wild outward/ inward ride through time like any of Trane's great solos. It's a surge of time travel from the '60s breakthroughs & breakdowns as reflected in the revolutionary free jazz awakening as well as in the political uprisings of that time that changed the world. —David Meltzer More information on John Sinclair and his new title HERE.
The Ferndale Public Library and Book Beat is proud to welcome Michigan native Lisa McMann to the Ferndale Public Library (222 E. Nine Mile Rd. Ferndale, MI) on Saturday, Oct. 15 from 2:30-4:00 pm. McMann is the author of the popular young adult "Wake" trilogy, "Cryer's Cross," and her most recent novel, "The Unwanteds." This event is free and open to the public. Books will be available to purchase at the event. For more info on this event, click here.
"The Hunger Games meets Harry Potter… [The Unwanteds] is sure to be a double hit." ~ Kirkus Reviews
Author Moira Young at Berkley High Collaborative Center Oct. 16th!
Book Beat and Berkley Schools are pleased to welcome author Moira Young to the Berkley High School Collaborative Center on Sunday, Oct. 16th, from 2:30 to 4 pm in conjunction with the release of her debut young adult novel Blood Red Road . The first in a planned trilogy, Blood Red Road is a stellar debut novel that will appeal to fans of The Hunger Games series as well as fans of dystopian fiction. She will speak and autograph books. This event is free and open to the public. Books will be available for purchase at the event. For more information or to reserve copies of this title, please call Book Beat (248) 968-1190.
Blood Red Road is the epic journey of Saba, a girl from the wastelands known as Silverlake. After her twin brother, Lugh, is abducted by four cloaked horsemen, Saba is forced to leave Silverlake to rescue him. What she finds is a lawless, ugly reality where the Wrecker civilization has long been destroyed. But she also realizes what a fighter, survivor, and crafty opponent she is.
The Baldwin Public Library and Book Beat are pleased to welcome author Danielle McGuire to the Baldwin Public Library (300 W. Merrill St. in downtown Birmingham) on Tues., Oct. 18th at 7pm. Danielle McGuire is the author of At the Dark End of the Street, a groundbreaking new history of the civil rights movement highlighting sexual violence in the broader context of racial injustice and the fight for freedom. "At the Dark End of the Street is one of those rare studies that makes a well-known story seem startlingly new. Anyone who thinks he knows the history of the modern civil rights movement needs to read this terrifying, illuminating book." – Kevin Boyle, author of "Arc of Justice" Books will be available for purchase at the event. If you have any questions regarding this event, please call Book Beat (248) 968-1190.
Author Mitchell Zuckoff at Grosse Pointe War Memorial Oct. 20!
Wayne County Community College District & The Grosse Pointe Public Library Present author MITCHELL ZUCKOFF Distinguished Professor, Journalist and Bestselling Author of Lost in Shangri-La: A True Story of Survival, Adventure, and the Most Incredible Rescue Mission of World War II at the Grosse Pointe War Memorial on Thurs. Oct. 20 from 7:30 pm to 9:15pm. This event is free and open to the public, but registration to attend is required. To register for this event, visit the library's website here. Books will be available to purchase at the event. Please call Book Beat if you have any questions (248) 968-1190.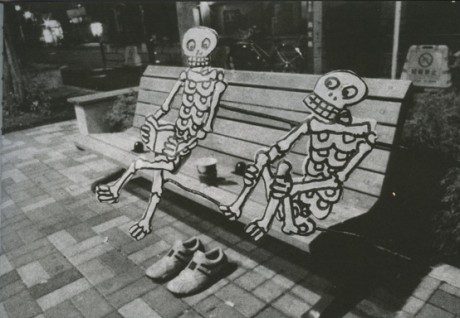 The exhibition "Bones" will display the art and vision of Tokyo artist Yasuo Tanaka during a consecutive three day opening at the Book Beat gallery/bookstore on Friday, October 21st from 6-8 PM, Saturday, October 22nd from 5-8 PM and Sunday from 3-5 PM. The artist will be making "portraits in a wheelchair" during his residency and will have original sculptures, ink napkin drawings, photographs and books for sale. Artist Dick Cruger will also be in attendance and will present his collaboration with Tanaka; Parallel Universe, a correspondence in photographs between Tokyo and Detroit. The Book Beat gallery is located at 26010 Greenfield in Oak Park. Please call 248-968-1190 for more information. Tokyo artist Yasuo Tanaka (b.1942) is a uniquely gifted artist that uses bookmaking, design, puppetry, wire sculpture, photography, and ink drawing in fantastic and striking combinations. Tanaka has produced a curious and quietly poetic body of work, a bizarrely stylized skeleton world radiating a simple universal message and philosophy. A surreal, childlike and humorous quality pervades all of Tanaka's art that presents to us a Borgesian metaphysical vision about eternity, death and life wrapped inside his purely visual reality. Detroit book artist and sculptor Dick Cruger, began a friendship with the artist Yasuo Tanaka about 10 years ago. Dick was introduced to Yasuo through the American poet Arthur Barnard who now lives in Tokyo. Barnard thought the two artists should meet since they both shared a similar aesthetic. Each artist executes their work with technical polish, working in similar areas of storytelling with visual art and sculpture. Together they have recently collaborated on Parallel Universes, book project that combines sites of Detroit and Tokyo told through skeleton and robot figures. The Book Beat gallery will display this body of work and hold the book launch in a three day opening: October 21st-23rd. Read the full article HERE.
The next Book Beat reading group meeting will be held Wednesday, October 5th at 7: 00 PM at the Goldfish Tea House in Royal Oak, for a discussion on the book Stories and Essay's by Mina Loy. Marjorie Perloff writes: "Among the great modernist poets, Mina Loy was surely the greatest wit, the most sophisticated commentator on the vagaries of love, the one whose brittle and sardonic laughter continues . . . to pursue us." Stories and Essays of Mina Loy is the first book-length volume of Mina Loy's narrative writings and critical work ever published. This volume brings together her short fiction, as well as hybrid works that include modernized fairy tales, a Socratic dialogue, and a ballet. Loy's narratives address issues such as abortion and poverty, and what she called "the sex war" is an abiding theme throughout. Stories and Essays of Mina Loy also contains dramatic works that parody the bravado and misogyny of Futurism and demonstrate Loy's early, effective use of absurdist technique. Essays and commentaries on aesthetics, historical events, and religion complete this beguiling collection, cementing Mina Loy's place as one of the great writers of the twentieth century.
---
Book Beat is an independent locally owned bookstore serving the metro Detroit area since 1982. We appreciate your support and comments. Special orders are always welcome! For more information please call 248-968-1190 during store hours Mon.-Fri. 10 am-9 pm, Sat. 10 am-7 pm & Sun. 12-5pm. Visit us in person at 26010 Greenfield in Oak Park, MI 48237 or online 24/7 at thebookbeat.com - Thank you for reading!