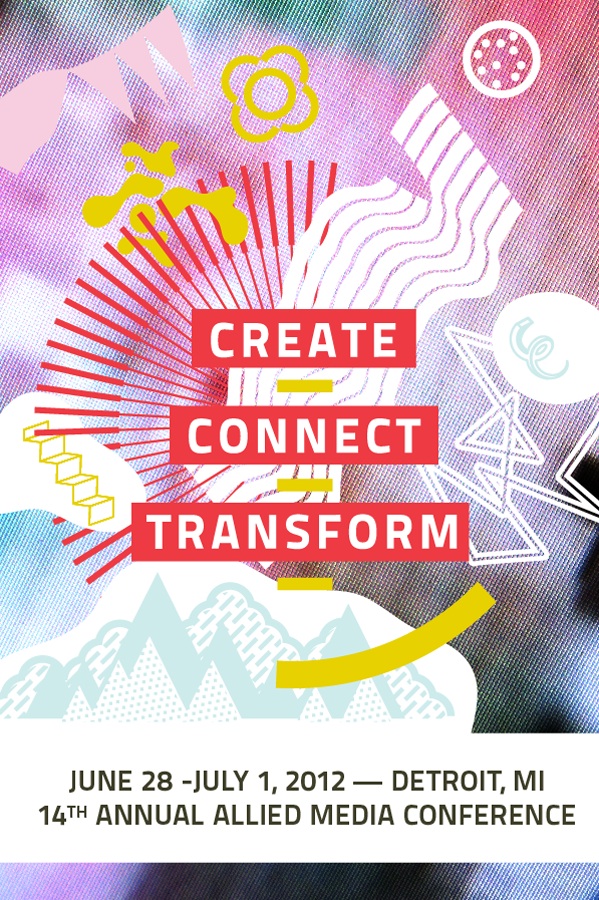 REGISTER TODAY
The 2012 Allied Media Conference kicks-off one week from today!
With more than 150 workshops, panels, caucuses and strategy sessions to blow your mind, it helps to do some advanced planning. Here are three tools that will help you plan your approach to AMC2012.

Some of the most important connections at the AMC are forged on the dancefloor. Participants spend all day learning and building together in profound ways, but the nighttime events create the sense of community that keeps people collaborating throughout the rest of the year. Check out the new AMC Special Events page, which highlights all the ways we'll be throwing down Thursday, Friday, Saturday and Sunday nights.

The AMC community knows how to HUSTLE. Please support their efforts by contributing to one (or more!) of these exciting fundraising campaigns:
If you live in New York and you are debating whether or not to come to the Allied Media Conference this year, deliberate no further. Buy your tickets for the NYC-AMC bus today! One-way and Round Trip tickets are available.
Don't forget to use the AMPtalk message boards to find carpool collaborators, community housing options and much more. If you're a Detroiter, interested in opening up your home to fascinating out-of-town AMC participant, be sure to make a post on the housing board.
Last but not least, if you love transformative art, consider signing up to volunteer for the Transformative Art Practice Space.
See you in 7 days!

AMP is supported by grants from the Broadband Technology Opportunities Program, Ford Foundation, Nathan Cummings Foundation, Open Society Foundations, the Kresge Foundation, Instructional Telecommunications Foundation, and the Media Democracy Fund.
AMC2012 is supported through the generous sponsorship of the John S. and James L. Knight Foundation, Detroit Creative Corridor Center, Free Press, INCITE!, the Center for Urban Innovation, the Media Ideation Fellowship, Prometheus Radio Project, the James & Grace Lee Boggs Center to Nurture Community Leadership, the Center for Media Justice, the Michigan Roundtable, Make/Shift Magazine, Issue Media Group, Fresh Corp, and Wink.