click thru for details






Dear Sylvia,

I have to admit, I LOVE living in Michigan. Although I'm not a native, I've lived in the central part of the state for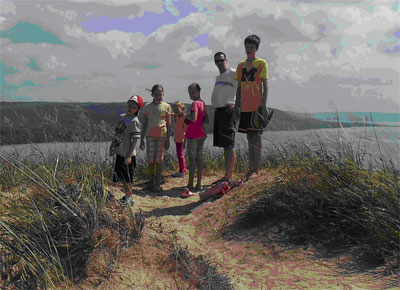 twelve years. And now I wouldn't want to live anywhere else.

Sleeping Bear Dunes National Lakeshore in Michigan was voted as the most beautiful place in America by ABC's Good Morning America. We took our family hiking there last summer and I can attest to the beauty.
Here's a picture of my gang on one of our hikes!
Fall is also a really beautiful time here in Michigan with the changing leaves and cooler weather. Our family has the annual tradition of going to a local apple orchard, getting cider donuts, caramel apples, and running through the corn maze.

BOOK NEWS
Another wonderful aspect of fall—at least this fall—is the release of my second novel,
The Doctor's Lady
! I'm excited to announce that
The Doctor's Lady
is available NOW! You won't want to miss out on all of the events going on to celebrate the release.

Here are just a few ways you can join in the fun:
The Doctor's Lady Blog Tour: Check out my News & Events Page for a full listing of all of the blog stops. At each place, I'll be sharing more about myself, my writing journey, and what went into the writing of The Doctor's Lady. Plus, there will be close to 40 book giveaways of the new release!!
The Doctor's Lady Be A Trailblazer Contest: Enter my amazing reader contest for a chance to win a steamer trunk filled with $300 worth of trailblazing prizes. (Only a few days left to enter, so click the banner above to get your entry in, before it's too late!)
Radical Reader Slide Show: Send me YOUR picture with The Doctor's Lady! I'd LOVE to see YOU! And I'd love to add your picture to the slide show on my blog.
The Doctor's Lady Book Trailer: I'm also really excited to share a short video that gives a glimpse into my book. If you haven't ever seen a video book trailer, then take a peek by clicking the play button on the video image.

WHAT READERS ARE SAYING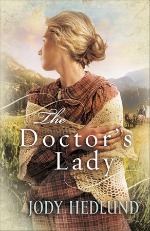 "
Talk about a page-turner! If it's possible, I loved this book even more than Jody's first (The Preacher's Bride). The plot is compelling, and to say the characters are likeable doesn't do justice to their depth. Be prepared to stay up late to finish this one!
"
- Sarah
"I was swept away. In the tide of a love discovered after a marriage. In an adventure filled with the thrills of the trail. Swept away in a novel filled with everything I love in really good fiction." - Casey
"When author Jody Hedlund debuted her first book The Preacher's Bride, I instantly fell in love with her characters and her writing and deemed her "another favourite author". So when her next book came out I wondered if she would be able to impress me again. I don't have to wonder any longer. The Doctor's Lady is an incredible book that will sweep you away and I guarantee you will not be able to put it down until you are finished. Yes - it is that good."
- Laura
Read the story, and want to share your thoughts? Haven't read it, but want to buy your copy today? Visit the
Doctor's Lady page on Amazon
.

AN EXTRA LITTLE 'THANK YOU'
Finally, dear reader, I hope you know just how much I appreciate you! Knowing that you're enjoying my books gives me the motivation to keep writing!
As a way to show my appreciation, and to help you kick off fall, here's one of my favorite (and easy!) recipes. I make this every autumn with fresh Michigan apples:
Apple Bread
1 cup vegetable oil
4 eggs, beaten
2 cups sugar
2 teaspoons vanilla extract
3 cups flour
2 teaspoons baking soda
2 teaspoons salt
2 teaspoons ground cinnamon
2 cups chopped pared apple
Mix together oil, eggs, sugar and vanilla. Stir in flour, baking soda, salt, cinnamon and apple. Pour into two greased and floured loaf pans. Sprinkle with topping. Bake at 350° for 55-60 minutes. Makes 2 loaves.
Enjoy!
Jody Hedlund
www.jodyhedlund.com
www.twitter.com/jodyhedlund
www.facebook.com/AuthorJodyHedlund
P.S. If you enjoyed this newsletter, feel free to share it with a friend by clicking any of the icons below.